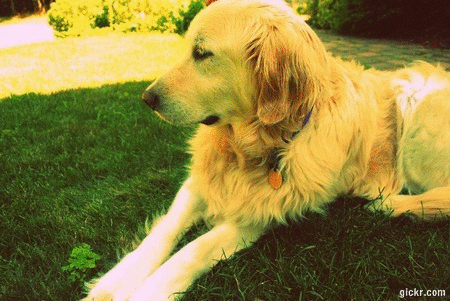 Join us this Friday, August 28 from 5-8 pm for our Yappy Hour Adoption Event. We have partnered with Golden Retriever Rescue SWFL (GRRSWFL) to help save animals in need of furever homes! There will be a 20% store wide sale, and a portion of the proceeds will benefit GRRSWFL. We will have lite bites from Florida Olive Oil Company and complimentary drinks from Tito's Handmade Vodka. Friendly pups welcome!
So why should we adopt and not shop? I mean what about those cute little puppy faces? Just think that you are saving a life and they're still uber adorable. Adopting an older animal is no different, and sometimes they are even really young.
Athena, still up for adoption!
Pros to Adopting
1. Housebroken: if you're a family looking for a new addition, this is a big pro for you. Puppies need to be watched over almost constantly to make sure they are not chewing things up or having accidents in the house. Its hard to constantly babysit a puppy when you have a busy work schedule, and the kids are in school. Think about that, leaving a puppy home for almost 8+ hours by itself. Yeah you could kennel train it but a kennel is not a furever home for your animal. Even most of the puppies are already housebroken so no worries!
2. Sleep: you will ACTUALLY get a good nights sleep with an adopted dog, maybe even cuddles. Puppies are like babies, they wake up a thousand times in the middle of the night because they need to "tinkle". Which can be frustrated for some people especially if you have to get up early, or you just love your sleep.
3. Puppy Mills: When you buy a puppy from a petstore you are supporting the cruel puppy mills. A puppy mill is an establishment that breeds puppies for sale on an intensive basis in conditions that are regarded
inhumane
!
This site
has detailed information on puppy mills.
4. Normally adopting a dog is WAY cheaper than buying one from a store or a local breeder. Adopting ranges from about $50-$200 when buying could cost from hundreds even thousands of dollars. When you adopt, the dog will normally come with a chip, recent vaccinations, and are spayed/neutered. (this does not apply every adoption facility), this can be costly if you buy from breeders/pet stores.
5. When you're at an animal shelter there are many dogs to choose from so you can find one that fits your personality!
6. There are about 6-8 million dogs in animal shelters every year. If some shelters get too full they put dogs on a kill list to be put down, these are known as kill shelters.
7. Love: You cant buy love! With an adopted dog you will receive so much love if you show the dog love. Most of these animals probably dont know what its like to be loved seeming some are left to die, or have gone through so much harm.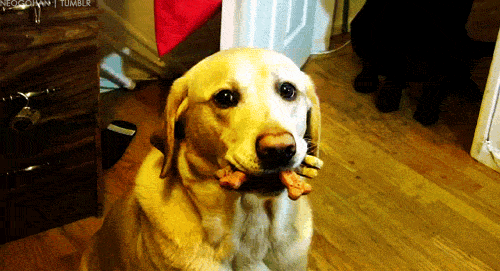 Why Adopt a Golden?
Golden retrievers are great family dogs because they are very gentle but love to play. They are cheerful pups who will still be a puppy at heart, which means they will tend to chew on things. That's what an Antler Chew is good for or even the
Himalayan Dog Chews
! Goldens are great service dogs as well! Or lets say you're an active person maybe you like sports, Goldens love a good ole game of fetch! Oh so you like to travel? They are the best traveling companions! Yes, their size may frighten you on that, but what better than having a loving best friend on your side to experience new places with? Overall Goldens are very comforting and are great for young and older people, someone with a disability, or a disorder! Tell me their cute smiles don't make you feel all bubbly inside!
Featured at this event:
Tito's Handmade Vodka
&
Florida Olive Oil Co.
Naples Location