November is National Manatee Awareness Month! Here in Florida this is extremely important due to the fact we are surrounded by the water they live in most.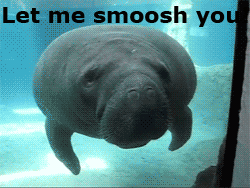 Fun Facts about Manatees:
There are about 5000 located in Florida!

Manatees can be up to 13 feet long, but the average is 8-10 feet.

They can weigh up to 3500 pounds, but the average is 800-1000 pounds!

They live in the shallow coastal waters, bays, estuaries, lagoons, and rivers. Manatees can freely move from fresh water to saltwater. They love to be in warm waters, and have a nomadic tendency to pause in areas that supply their needs, and then they leave.

Many eat plants

Can not survive in waters with a temperature below 68 degrees for long periods of time.

Almost 40% of Manatees death is caused by humans.
60% are killed from impact injuries from physical force of a boat traveling at a high rate of speed.
30% are killed from rotating propellers and fixed skews.
10% are killed from a combination of the two above.
The most serious threat is the loss of habitat and pollution.
Some natural causes are cold stress and red tide.
Please keep in mind if you are out boating to watch out for these rather large guys!