The Spring Equinox is around the corner starting March 20, 2017! We couldn't be more excited here at Pucci & Catana! In honor of Spring, we introduce Spring inspired Susan Lanci products as well as our new treats! "Spring" by Pucci & Catana and see what's in store!
The word "season" is from the Latin word sationem meaning "sowing" or "seed time"
The fall and spring equinoxes are the only two times during the year when the sun rises due east and sets due west
The term "spring fever" refers to a both psychological and physiological symptoms associated with the arrival of spring, including restlessness, daydreaming, and increased sexual appetite. While the exact cause is unclear, scientists believe that increased light, more exercise, and more bare skin influence hormone levels
While springtime brings flowers and warmer weather, it may be the worst time for human babies to be born. A large-scale study found that babies born in the spring are more likely to develop schizophrenia, bipolar disorder, major depression, and anorexia
The early Egyptians built the Great Sphinx so that it points directly toward the rising sun on the spring equinox
Susan Lanci harnesses are custom made per order from Ultra suede & Swarovski Crystals. Perfect for hot climates and preventing knotted fur. These harnesses are lightweight and easy to use!
Want one of the products shown on this post? Just click to photo to be directed to it in our webstore! Susan Lanci products take 3-4 in production but it is definitely worth the wait.
Due to strict health regulations these can NOT be returned/exchanged.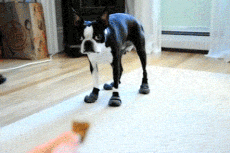 Licks & Love
is a Miami based company specializing in homemade doggy treats free from preservatives, chemicals, and by-products. The creators were amazed at how many harmful chemicals and additives they found in regular store bought treats. Inspired by their rescue pup, Nicky, the creators sought to develop a healthy product that all pups could enjoy.
Pucci & Catana carries both Peanut Butter Pup Fries in 6 oz. packs as well as Cheesy Pup Fries in 6 oz. and 1 oz. packs! Stop by at our Naples or Jupiter location for a free puppy sample!
All treats are soy free, wheat free, meat free, corn free, and made in the
U
S
A
OATS

are a great source of soluble fiber, which can be especially beneficial to senior dogs with bowel irregularity issues. It is also a great alternative grain for dogs allergic to wheat.

PEANUT BUTTER

is made of Vitamin H and Vitamin E. The first vitamin increases the sheen of your dog's coat, improves the quality of dog skin and the strength of the nails. The second helps your dog's immune system, which protects your dogs from disease.

CHIA

has 3 times the amount of Omega-3 fatty acids as salmon! Omega-3 is important to balance out Omega-6 fatty acids and promotes healthy: Cells, immune system, skin and coat, joints, brain development and maintenance eye development and maintenance and Growth
Adele-Nicole approved!!
Adele likes to take Cheesy Pup Fries with her to her Sunday-morning training lessons!
Have a happy Spring!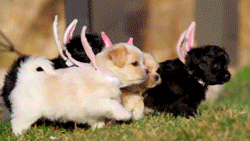 P.S. - Don't forget! A portion of our sales at
Pucci and Catana
go directly toward various animal organizations and charities. Look good, feel good!
Cheesy Pup Fry information taken from: http://www.licksnlove.com/#sthash.RUBP5IBt.dpbs